Our Mission
"To achieve sustainable reductions in substance abuse among youth in Fountain Hills and the Fort McDowell Yavapai Nation."
The Safe Homes Network of Fountain Hills is a group of concerned parents and citizens, that includes over 500 families, who have taken a pledge not to allow youth, under the age of 21, to consume alcohol or illegal drugs in their homes. We are taking a pro-active step to protect our children from the harmful, often deadly, consequences of alcohol and illegal drug use.
Did you know? In Arizona, it is illegal for anyone to supply alcohol to a person under the age of 21 under any circumstances. In doing so, the crime is punishable by up to 6 months in jail, a fine of $2,500 and 3 years probation. In addition, you can be held liable for any injuries caused by (or to) the minor as a result of the alcohol consumption.
2018 Arizona Youth Survey Findings In Fountain Hills
National Research Findings
The benefits of taking the Safe Homes Network Pledge:
P3 Tips are 100% Anonymous
P3 Tips is a mobile phone app that allows people to report crimes anonymously. The FH Coalition collaborates with Maricopa County Sheriff's Office of Fountain Hills who monitors and implements the incoming tips.  We ask that you embrace this new smart phone app and report underage drinking parties, substance abuse or other concerns.  
STEPS to Download P3 Tips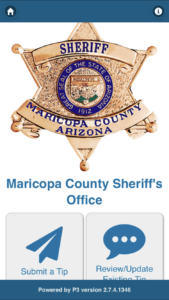 Thank you to the Town, MCSO, community partners, and everyone who placed tips to keep our community safe. Please download the P3 Tips app and continue to report concerns and make a difference
For many years, the Fountain Hills Coalition partnered with local merchants for P3 Tips. If your business would like to participate, please contact us at info@fhcoalition.org.
SAFE PRESCRIPTION DRUG DISPOSAL
Prescription Drug Drop Box – Help Prevent Prescription Drug Abuse
A drop box is available during office hours at Town Hall for disposal of unwanted, unused or expired prescription medications.
The drop box is located in the Town Hall lobby, just outside the Sheriff's Office entry. It is similar to a mail box with a slot at the top to pull open and drop in the unused prescriptions.
Prescriptions in the form of pills and patches are acceptable. For safety reasons, liquids, inhalers, Epi Pens and syringes are not allowed.
Above That Club – The Above That Club, under the direction of PE teacher Patti Schultz, is an extracurricular lunchtime program open to sixth through eighth-graders at FHMS. The Club meets once a month to discuss, role play and learn ways to stay above the negative influences of alcohol and drugs in addition to playing games and having fun.
The Above That! Oath – "As a standing member of the Above That! Club I promise to have a positive attitude to stay drug-free and to stand up to bullying and negative influences."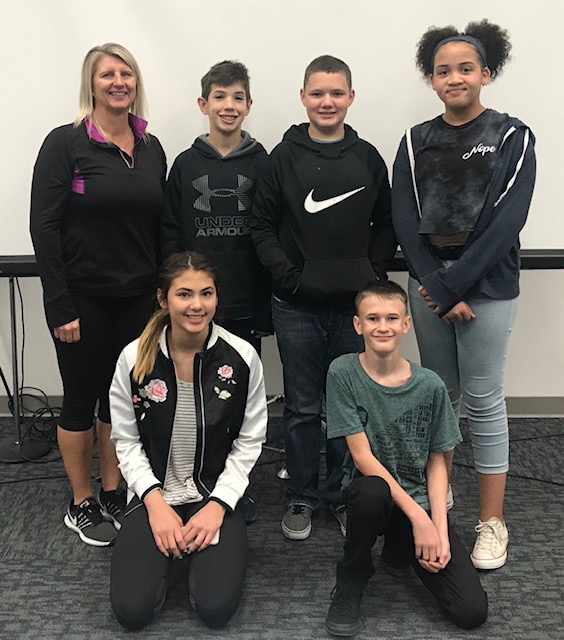 Red Ribbon Day – The annual prevention event in October, "Red Ribbon Week – October 23-31", is a series of nationally recognized prevention activities held around the USA in memory of fallen DEA agent Kiki Camarena. It also incorporates events and programs throughout the school year and focuses on the importance of youth leading healthy lifestyles in order to reach their desired destination in life! 
Each year the FH Coalition partners with Maricopa County Sherriff's Office, the Drug Enforcement Agency, the Town of Fountain Hills and Fountain Hills Middle School to sponsor Red Ribbon events. One half of a school day is dedicated to this event to raise awareness about the dangers of drug use.
2022 "Picture Your Future, Above the Influence" Poster Contest
Thank You!
Papa Murphy's Pizza for your partnership!
1st Place
8th Grade: Isabella Pappas
1st Place
7th Grade: Mya Hinton
1st Place
6th Grade: Clyde Cangley
2021 "Design Your Future, Live Above the Influence" Poster Contest
Congratulations
2021 Winners!
Thank You
Papa Murphy's Pizza for your partnership!
Above That 2 – Above That 2 is a continuation of the Above That Club in middle school. The club meets once a month on campus with faculty  sponsor Matt Keating..   Students of all grades are welcome. Above That 2 works to: Better Our World – Better Our School – Better Ourselves.
Above that 2 is supported by a generous grant from the Safeway Foundation.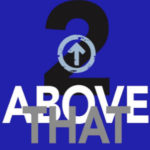 FOUNTAIN HILLS HIGH SCHOOL ESSAY CONTEST 2020
 Every year, the Fountain Hills Coalition sponsors a community-wide essay contest for all high school students in grades 9-12.  The 2020 Essay Contest received 134 essays in which students were awarded prizes for 1st, 2nd and 3rd place along with 14 honorable mentions.
A celebration and awards ceremony was held February 27, 2020 where students, parents, teachers, school administrators, contest sponsors and judges were treated to a delicious lunch catered by Phil's Filing Station.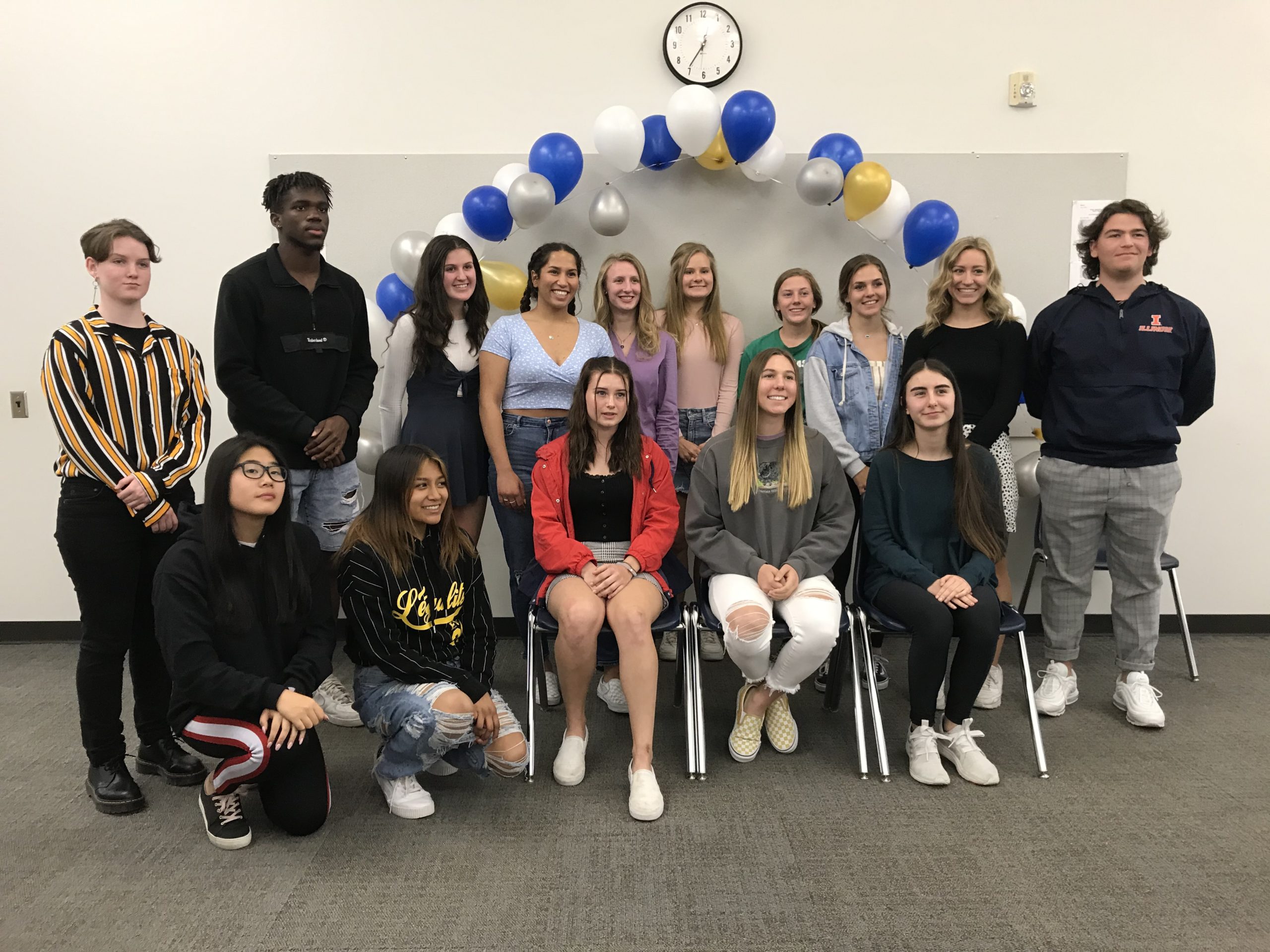 Our three essay contest winners seated from left: Sarah Wagner (2nd), Anya Feyrer-Melk (1st) and Rachel Walters (3rd). Fourteen Honorable Mention winners also included in photo.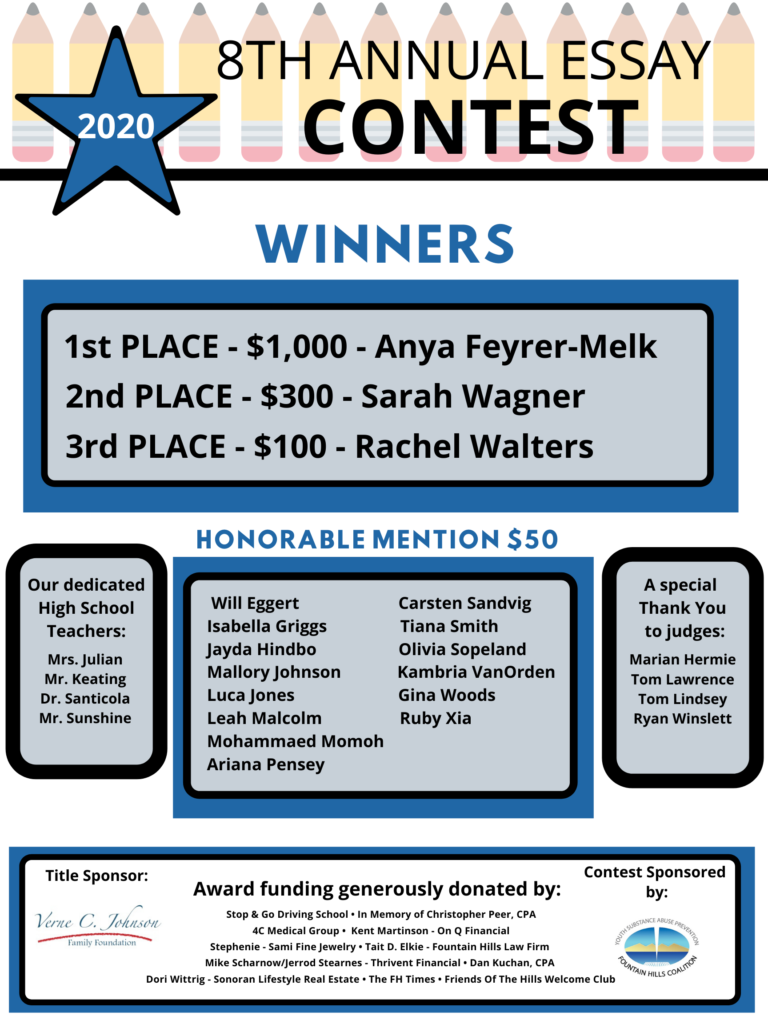 Prizes are awarded thanks to a generous donation by the
Verne C. Johnson Family Foundation.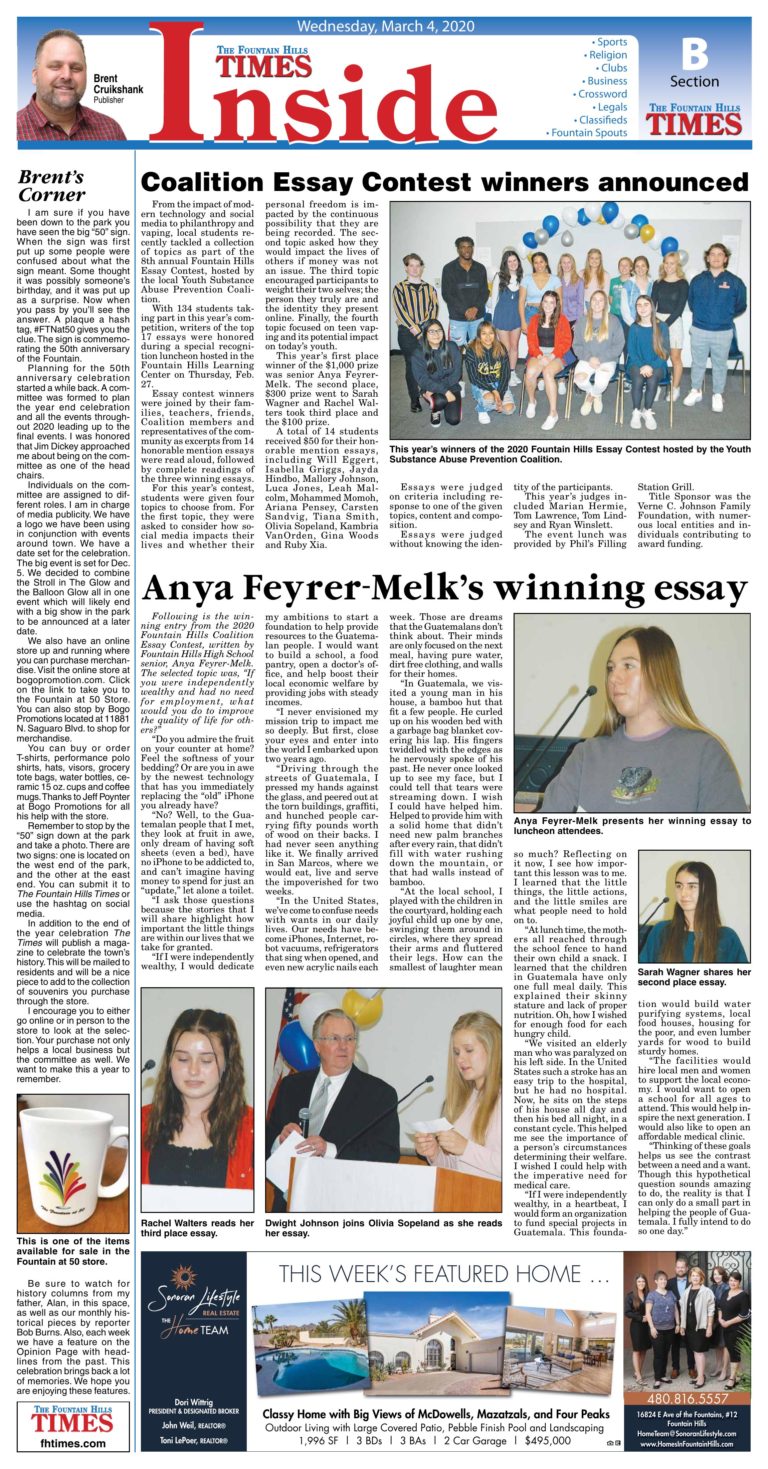 Speaker Series
Each year the Fountain Hills Coalition brings in speakers to talk with students about healthy living, good decision making, coping skills and dealing with stress. The lunchtime program is featured in the lecture hall during the lunch period.
Each year Nissan's ThinkFast, a fast-paced, educational game show visits the high school campus where freshman quickly learn the consequences of impaired driving and dangers of texting behind the wheel.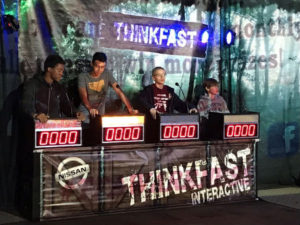 In August, Cari Fonseca presented the real-life story of her 21-year old son, Brandon who made one bad choice to drink and drive and the devastating accident that forever changed her son and family's life.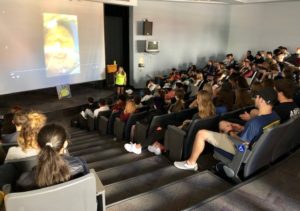 Red Ribbon Week – 
On October 1st McDowell Mountain Elementary School's second and third grade classes celebrated Red Ribbon Week in partnership with the Fountain Hills Coalition. Before the event, MMES special area teachers worked with the third grade class on creating their special shields. "My Shield" activity provided by Shelly Mowrey of the FH Coalition. The students decorated their shields with symbols of their favorite activities, family and friends.helly led the assembly talking with the students about the special shields of protection created throughout history and how their personal shields represent people and activities that can help them make good, healthy choices. Brave students came forward to talk about their shields and what makes them special. Every student then received a "Bee Drug Free" sticker and bookmark and made a pledge to be drug free, nice, helpful, a good friend, safe, happy and proud of themselves.