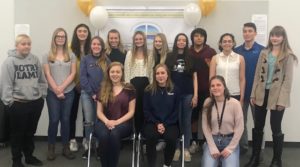 An award's luncheon was held on Thursday, February 21st for finalists and their families
to learn where they had placed in this year's essay contest. Judges read through 218 essays
and chose 16 Honorable Mention recipients along with the top three winners.
As students' names were read, they were asked to read a few paragraphs that embodied
the message of their composition. Faith Shannon (1st place), and Mikayla Anderson (3rd place)
read their full essays and left the audience in awe of their writing talent. Coalition Director
Shelly Mowrey read the essay written by Anya Feyrer-Melk, who placed 2nd in the contest.
Thank you to all of our sponsors, English department and The Hills' Pizza and Desserts for
their support in making the Essay Contest a success once again!